Manual Ear Loop Welding Machine- N95 & 3 Ply Mask Auto Rotation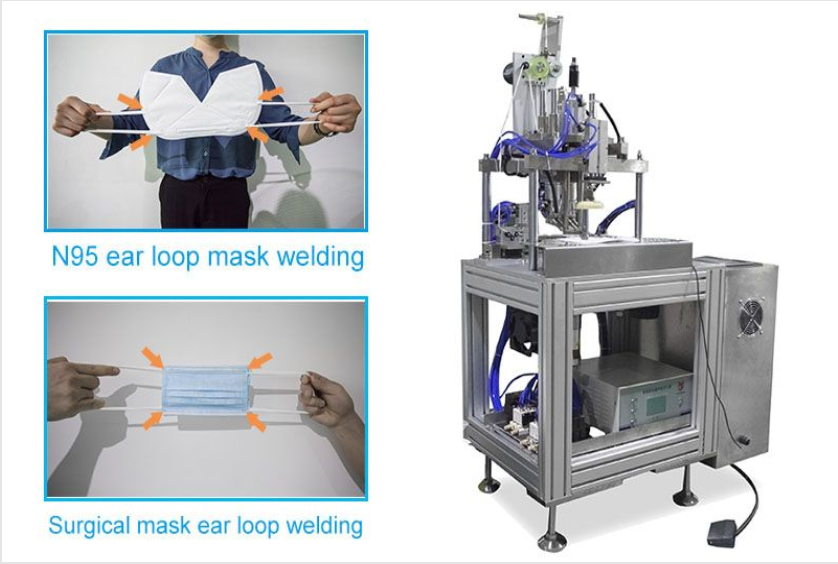 Product Description:
The special alloy steel material is made of flower wheel, the welding head is resistance to
damage and has a long life. Colour paper and gold foil paper can be added, and the colour
printing and bronzing functions can be achieved under pressure. The flower wheel is easy
to replace and the various flower wheels can be replaced according to customer needs.
No preheating is required for welding, and welding operation can be carried out continuously.
Multiple sets can be combined into a dedicated machine to complete products with larger width
at one moment. No smoke or sparks during processing, no damages to fabric edges and burrs
can also be avoided. Simple mechanical operation and easy maintenance. Use 20KHz low
noise supersonic waves to prevent noise interference. Disposable mask ear wire welding
machine is made by ultrasonic heating and special steel wheel pressure, and the welding is reliable.
Technical Specification:
Production : 25-30 Pcs/min
Motor Power : 2000 Kw
Ultrasonic Frequency : 20 Hz
Machine Weight : 100 Kg
Dimension(LxWxH) : 870*500*1420 mm